Amherst Central High School senior Casey McGuire was the recipient of the Angela Y. Coniglio Memorial Scholarship at Amherst's Awards Assembly on May 27, 2010. Casey was a three sport athlete throughout her stay at Amherst, excelling in Women's Varsity Basketball, Women's Varsity Lacrosse, and as a goalkeeper in Women's Varsity Soccer. Casey received other awards, including the Amherst Education Association Scholarship for leadership and promise in the field of Education, and she was chosen as the outstanding senior female athlete for the Amherst Avenue of Athletes. Casey was graduated with a 3.6 grade point average. All in all, her accomplishments and awards reflect the ideals for which Angela was an advocate.

In 2010, Casey tended goal for Amherst's Section IV Class C Lacrosse Champions, and was the Buffalo News' selection as the ECIC III Lacrosse All-Star goalie. She was also a second-team selection, News ECIC III Women's Basketball All-Star. She holds the Amherst record in Lacrosse forced turnovers. See the

Appendix for notes from Casey. See the presentation of Casey's scholarship at http://bit.ly/CaseyMcGuireScholarship to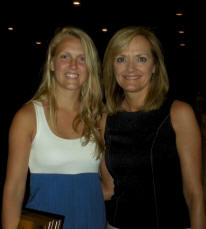 At the end of the 2010 season, Casey was selected to The Buffalo News All-Western New York Lacrosse Team. Casey attends St. Bonaventure University, and majors in Special Education. In 2012, she is a student aide at Amherst's, Windermere Boulevard School, the grammar school that Angela attended.
In the summer of 2010, Western New York school districts announced that for the first time ever, and decades after Title IX increased opportunities for women's sports, six local high schools, including Amherst Central, would field teams in a women's ice hockey league. Angela would say "It's about time!" In the same summer, Rachel Rose Silvestro, Angela's first cousin once removed, received the Cousins' Scholarship.

On the 2010 Fourth of July weekend, Angie and I visited Cape Cod, where our family has spent so many happy times. In South Yarmouth, at the Parker's River bridge, where Angelo and Angela used to go fishing and crabbing, we dropped some of Angela's ashes into the river, as Angela would say, "To be with the other crabs."

The breeze took some ashes North, while the outgoing tide carried the rest South, towards Nantucket Sound and the Atlantic Ocean. Another voyage for Angela

.
The recipient of Angela's scholarship at the May 26, 2011 Amherst Awards Assembly was Kristy Luce, a starter on the Womens' Varsity Bowling and Volleyball teams, and second-baseman for the Womens' Varsity Softball team, which made the 2011 Sectional finals. Kristy is majoriing in Education in college at Brockport State. She sent us a lovely note, shown in the Appendix .

See the announcement of Kristy's award at http://bit.ly/KristyLuceScholarship