On June 14th, 2019 at Amherst Central High School's annual awards assembly, the twenty-third recipient of the Angela Coniglio Memorial Scholarship was Paige Smith. The award, in the amount of $1,200, was presented by Angela's cousin Rebecca Coniglio Scherrer.

Paige maintained strong grades through her senior year with a 92 average. She led the Amherst Girls Swim team as a captain in her junior and senior years. She qualified for the NYSPHSAA Championship meet for Fall 2019 and was the 2018 Section VI Class B and ECIC Champion in both the 500 Freestyle and the 200 Individual Medley relay.

She was the lead leg in the 200 and 400 Freestyle Medley relays that won the Section VI Class B and ECIC Championships. Paige has school records at Amherst as part of the 200 Medley relay, the Individual Medley relay, and holds numerous pool records across Section VI. In addition to her five years on the Varsity Swim team, Paige also swims year round for her Club team. She plays the violin with the Symphony Orchestra, and volunteers in the community, working with children.

Paige will continue her swimming career at Edinboro University where she will major in Education.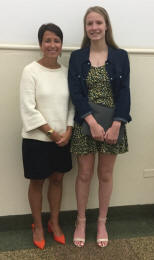 ---
'But soon we will die and our memory of those we love will have left the earth, and we ourselves shall be loved for a while and forgotten.

But the love will have been enough; all those impulses of love return to the love that made them.
Even memory is not necessary for love.
There is a land of the living and a land of the dead and the bridge is love, the only survival, the only meaning.'
Paraphrased from Thornton Wilder,
The Bridge of San Luis Rey